Cleaners
Pressure Cleaners
Pressure Pool cleaners require their own pump and provide an excellent cleaning option for your pool. Having a separate pump allows the skimmer box to be used to remove leaves from the surface of the pool and the cleaner to clean the floor, ensuring a cleaner pool all year round.
Jetvac
Jet-Vac is a pressure driven pool cleaner and is characterised by its large intake throat capable of collecting large debris. Operating for just 2-3 hours per day, the Jet-Vac cleaner cleans your pool quickly and thoroughly.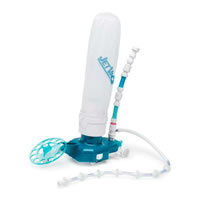 Powered by the Aqua-Quip booster pump Jet-Vac is ideal for heavy leaf loads that other cleaning systems leave behind. There's virtually nothing this cleaner can't swallow. The huge 115mm throat picks up twigs, large leaves, dirt, even golf balls and goggles! Large capacity bag compacts up to 3.5 litres of rubbish.
Compact and high quality, the Aqua-Quip Booster Pump operates quietly and is the perfect partner for the Jet-Vac Automatic Pool Cleaner. Robust and reliable design ensures a long life with minimal maintenance. It also operates all other pressure driven pool cleaners.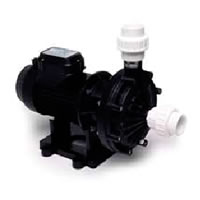 The Flow Control Timer eliminates the possibility of the booster pump running dry of water as a result of incorrect synchronisation with the pool pump.
Reduces wear and tear on the pool cleaner.
Protects pump from running dry, saving you from expensive repair bills.
Saves power consumption by limiting the operating hours of the booster pump.
The Aqua-Quip Flow Control Timer can be used for a variety of applications where water flow is required to switch on an auxilliary electrical device.
The Aqua-Quip Flow Control Timer with its integrated flow switch is significantly more reliable and much simpler than installing two separate time clocks.
Latest technology provides better pump protection and resolves all the problems with earlier generation models.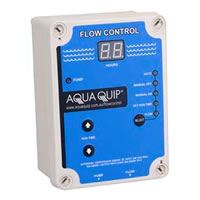 Suction Cleaners
A suction cleaner hooks up to your pools skimmer box and uses your existing pump. These are a great entry level cleaner and there is a range of models and types. Below are the three cleaners we use and recommend –
The Pool Cleaner
Comes with a 5 YEAR WARRANTY!
Self-Adjusting Turbine Vanes – These maximize the power from the water flow. The turbine is similar to a paddle wheel with blades that are adjustable. This feature allows it to move at low suction with low pressure. In addition the folding vanes of the turbine allow for the easy passage of larger debris through the cleaner.
Steering System – With its internal programmed steering system that makes the left wheel to periodically reverse, allowing it to turn and then move in another direction.
Robust Tyre Treads – these give better climbing ability and obstacle maneuverability. The tires have raised treads that allow it to overcome any reasonable obstacles such as the main drain or uneven surfaces.
Adjustable Skirt – this allows the cleaner to maintain optimal suction under the machine even when it encounters obstacles. When the POOLCLEANER™ encounters an obstacle one (or more) of the skirts will lift up (adjust) over the obstacle while maintaining suction under the cleaner.
The 2 Wheel model is ideal for most average sized pools.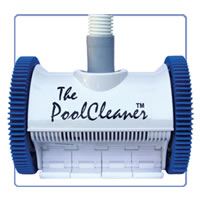 Baracuda
Barracuda is a well know model of suction cleaner, they have been tried and tested for over 10 years in many different pools and environments.
Diaphragm Technology – The Barracuda only has one operational moving part, the diaphragm delivers maximum power while ensuring whisper quiet cleaning operation.
Exceptional Durability – Using robust construction materials, the cleaner performs at its peak year in year out. From the long wearing foot and skirt that continuously scrubs away, right through to the long life hoses.
Quick and Easy – Supplied with long life hoses this cleaner is quick and easy to install, remove and service.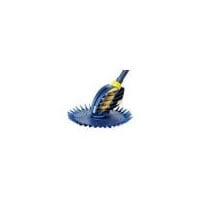 Leaf Canister
Leaf canisters are designed to trap leaves and other large debris before they enter your pool's filter system. These go in the cleaner hose/line before the leaves get to the skimmer basket. Stopping your basket from breaking and visually allows you to monitor when it will need emptying. This makes pool maintenance easier for you. The large capacity Leaf Canisters have been designed to work with automatic pool vacuum cleaners, and will also work with a hand vacuum.
Extra Large Bag: traps leaves and debris before they reach your pump
No Clog Design: ensures constant water flow to pump
Easy-Open Lid: for quick access
See-Through Canister: lets you see when to clean
Lexan Construction: for durability